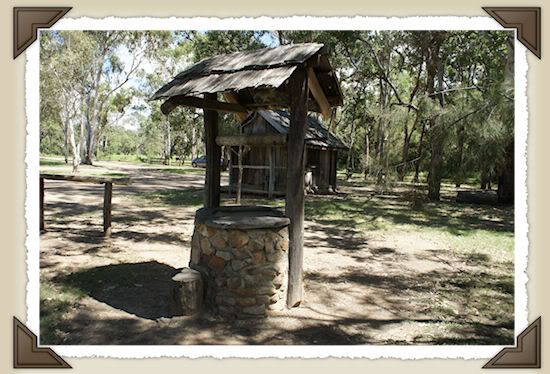 ©Photo by Lyn Murphy
The carpet really needed a good vacuum and there was something sticky spilled down the front of the cupboard. The cleaner in me was itching to get to work, but Pete was packing up the car to go for a drive.
We packed up the little gas stove. We rustled up some food to pack in the Esky (cooler).We threw in some plastic cups and plates, some tea bags and a kettle. We grabbed our cameras and off we went.
Now Pete has been kind of obsessed with aeroplanes since we started work at the local Aero Club, so he is always out for an opportunity to take photos of the same. His intention was to visit an Aerodrome in a country town called Nanango, but, as often seems to be the case on these 'plane spotting' trips of ours, unless there is a special function in progress, country aerodromes often turn out to be nothing more than a collection of hangars and a deserted runway.
However, undaunted, we found a lovely little park dotted with relics from the gold-mining days. We set up our stove and made ourselves bacon-and-egg rolls with a cup of tea. And we sat there, eating our lunch; just watching the world go by.
We wandered around and took photos of the old buildings, the well and the horse drawn log trucks – the crude gold mining equipment.
On the way home we played a CD of some of our favourite music – the stuff that doesn't have a liberal dousing of four-letter words throughout the lyrics. We chatted about things brought to memory by certain songs we heard. We laughed and made silly comments, which made us laugh even more.
I came home and the carpet still needs vacuuming. There is still something sticky on the cupboard door. But so what? I had a really nice day. We did simple, inexpensive things (well apart from the cost of the petrol, but you can't have everything.) But we had fun. And we remembered why we got together in the first place – because we enjoy each other's company.
Sometimes we just need to break the routine and enjoy the simple pleasures that life has to offer.
©Lyn Murphy 2011